CineMag and Sowter Transformers!

These kits sound amazing, just like vintage Pultecs. The silky top end is simply beautiful.

RecPro Audio is pleased to announce that all Pultec EQP-1a Kits now include CineMag CMLI-4x150D input, Sowter 1475 (HS-29 repro) interstage and CineMag CM-S217D (legendary Peerless S-217-D repro) output transformers, as well as a CineMag CML-150T tapped inductor. CineMag inductor, input & Sowter interstage transformers are encased in Mu-metal cans (steel for the CM-S217D) for optimal noise reduction. These transformers are huge and the absolute best components available for the Pultec EQP-1a application.

"Please understand that I am trying to make the best Pultec kit that is humanly possible - something of superior quality that sounds amazing. Something that my customers would never part with. Toward that end, I endeavor to source the finest parts available. There is nothing I could do to make these kits any finer, it's all here." - Ron


All 2022 EQ Kits are SOLD OUT. Thank you!






New Pultec EQP-1a kits will be available 2023.

Please sign up for the newsletter at the top of this page to be notified of availability.

Please call 239-689-5941 or email with any questions. Thank you.




RecPro Audio Pultec EQP-1a Kit Details

2022 Pultec EQP-1a KIT:

This is a point-to-point EQ Kit (not PCB).

As always, RPA Pultec Kits are comprised of only the finest parts available and include everything needed to assemble an accurate EQP-1a clone:

Signal Transformers & Inductor:
CineMag CMLI-4x150D input (mu-metal shielded)
Sowter 1475 interstage (mu-metal shielded)
CineMag CM-S217D output transformers (steel enclosure)
CineMag CML-150T Pultec Inductor (mu-metal shielded )
Hammond universal power transformer (120/220/240v)
Complete audio-grade filter capacitor set (custom made for RecPro Audio)
Neutrik jacks, Carling switches, PEC pots, Grayhill switches, Nichicon and Sprague electrolytics
Heavy-duty painted chassis (light blue front panel with gray case panels) EMI / RFI shielded
Engraved and infilled front and rear panels
Machined front, rear and bottom panels (absolutely no drilling required)
VOS knobs (including Daka-Ware)
NOS Cinch tube sockets
NOS (or testing very strong) RCA 6X4, 12AU7 and 12AX7 vacuum tubes (balanced)
Signal/Buss/Heater wire and all hardware (washers, stand-offs, grommets, stainless steel screws and nuts)
(Other than the new CineMag and Sowter transformers, all components included are exactly as represented in photos on this website.)
Support:

Over 500 high-resolution, step-by-step, assembly photos via FTP
All new master wiring diagram and switch layouts
Schematics, transformer and inductor datasheets, manual documentation included
Email and/or telephone tech support

Need a Completely Assembled and Ready to Use Pultec EQ? RecPro Audio will build it for you: Email for a Quote
Completely assembled RPA EQP-1a kit, hand-wired by Ron (cayocosta), point-to-point, tested, ready to use.
(Matching available at no charge for pair orders.)
Contact Us For Pultec Parts










International orders welcome.*
*Any and all import duties, fees and/or taxes are the sole responsibility of the customer.
Shipping Information
Insured shipping to the continental US is a flat $50 per EQ. International shipping varies from $150 to $225 per EQ.
RecPro Audio Pultec EQP-1a Kit: No Compromises
When is a "Pultec" Not a Pultec, But Just Another Equalizer?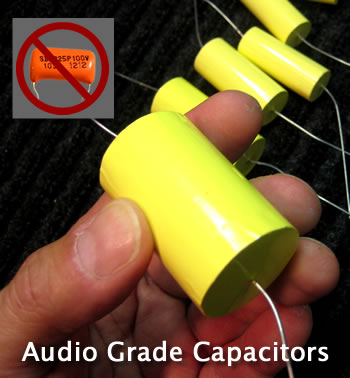 You can't expect to capture the Mojo of a legendary piece of vintage outboard gear while cutting corners with PCBs and modifying the original circuit design to meet a low price point. This is because putting cost above all other considerations means compromises; and by definition, with compromises there are always losses.

That's why RecPro Audio's EQP-1a kit complies 100% with the original Pulse Techniques schematic. Nothing is added, or missing, nor are any components altered from specification.

With RecPro Audio you won't find mojo-compromising adulterations like printed circuit boards, transistors, diodes, heat-sinks, solid-state rectifiers, headers and ribbon cables, etc. Instead, RecPro Audio provides only the highest quality original-specification components available from the finest suppliers, integrated via a proper old-school point-to-point layout for maximum vintage Pultec Mojo preservation.

Photos here.
Proven Architecture:
Highly regarded RecPro Audio point-to-point architecture (layout established in 2004) for superb performance and quiet, transparent operation.

Read more about it here.
Highest Component Quality:
The right parts make a big difference and RecPro Audio goes to great lengths to procure only the finest components available. From CineMag input, output and Sowter interstage transformers and CineMag shielded inductors; to balanced RCA valves tested in-house, PEC potentiometers, and heavy duty EMI/RFI shielded chassis, there are no compromises. It is particularly worth mentioning that capacitor networks are the heart of the Pultec equalizer filter circuit, therefore using mis-matched cheap computer-grade capacitors is neither optimal for performance nor befitting the high-standard set by the balance of the componentry. Accordingly, RPA sources a matched-set of custom-made, audio-grade capacitors for the full filter circuit. Anything less would be sacrilegious.
Add Point to Point Assembly to Your List of Skills:
You'll graduate at the head of the Point-to-Point class with RPA's comprehensive instruction package that takes the guesswork out of assembly and ensures a professional quality EQ when complete. All new master layout features a complete color-coded wiring diagram including switches, pots, inductor, transformers, amp and filter sub-assemblies. Individual switch layouts are also included to make wiring even more foolproof. Step-by-step instructional photo-set (500+ high-res images) also includes transformer strapping and switch configurations. Nothing is left to the imagination, everything is covered. No drilling or milling required. From standoffs to wire-ties, everything is included. Get the P2P experience the easy way.
Unlimited Technical Support:
By phone and/or email.
RecPro Audio Kit Vs. Independent DIY
No Parts Hassles:
With over 100 parts required to properly assemble a Pultec Equalizer reproduciton, tracking them all down is quite a chore with some components very difficult to locate, if at all. DIYers are also left to mix and match filter capacitors as no manufacturer offers them in all of the values required over the counter. Additionally, minimum order requirements by some suppliers means parts must be ordered in large numbers - some in quantities of 100. As well, some vendors quote over 8 weeks lead time which means a lot of waiting. RecPro Audio does away with these headaches and obstacles so that you can concentrate simply on assembly.
No Hidden Costs:
It is understandable that when considering a bill of materials for a project, the ancillary costs are often overlooked or greatly underestimated. However, such costs are considerable, easily approaching 30% of total component cost as small part orders from over a dozen vendors (and other sources) means multiple freight charges and the highest unit cost per part. Likewise, chassis milling and engraving generates additional cost and shipping expense (both to and from) that often goes unrecognized early on. Product returns and re-orders are also real-world eventualities that can unexpectedly drive up the total cost of a DIY project.

Sourcing parts from overseas can also result in unforeseen International bank surcharges and import duties.

RecPro Audio eliminates and otherwise distributes such charges across larger quantities which results in significant savings on both per unit part cost and the associated freight expenses. This efficiency and economy of scale help make the RPA Pultec EQ Kit rather reasonably priced when compared to the *true* cost of independent DIY efforts.
International Savings and Customs Clearance:
Overseas customers realize especially significant savings as the cost of shipping a complete RecPro Audio kit is much less versus the multiple part shipments required independently. Customs clearance is also streamlined with one package rather than dozens. RecPro Audio customers can be found in the United States, Germany, Switzerland, Belgium, Australia, Venezuela, Norway, Netherlands, France, Poland, United Kingdom and Canada.
Highest Possible Fair Market Value:
A properly assembled RecPro Audio Pultec EQP-1a represents an asset worth much more than the kit investment itself. This is because RPA's proprietary design architecture is proven and the high quality of the kit components is consistently and strictly controlled. The RecPro Audio name on the chassis lets others know that you've built the best, and if there's ever a time to sell your EQ you will get the best return on your investment with an RPA Pultec EQ Kit - it's money in the bank.
Pultec EQP-1a Kit Feedback
"Thanks again for such a rad & well built kit! Beyond satisfied - customer for life!" - T.B.
"I had 3 Pultec EQs I sold, and your EQ seems to sound the same! Gorgeous! Fantastic! I love it." - F.P. (France)
"Thank you so much for your Pultec kit. It is simply stunning. Ive built many audio kits in various shapes and sizes and this is by far the best!! It worked a treat from the start and was a pleasure to build :) I also have 2 drip Pultecs and rather the sound of yours!" - J.N. (Australia)
"I just wanted to let you know how much fun I had putting this kit together. Its fantastic. The step by step pictures are a great help. Good job mate :) Keep it up." - B.V. (Australia)
"This is only my second DIY project and all I can say is wow! Incredibly fun and addictive. Kits came loaded with all the fixings including Sowter transformers, RCA tubes, custom caps, all the way down to wire ties. Kit comes with a library of step by step photos that made it doable for this DIY newbie. The full metal enclosure with NOS knobs and paint really ties it all together. Of course they sound amazing, with plenty of headroom and way more low end depth/detail than my Waves and UAD plugs. At less than half the price of the new Pultec remakes I don't see how you can find a better clone value (with valve based accurate schematics). I got a matched pair shipped for 3100. I am stoked." - J.C. (USA)
"These things are dead quiet and about as transparent as can be "in" or "out". I just wanted to compliment you on a very well thought out kit. It was very complete and made assembly quite a joy." - A.G. (USA)
"Super super super happy with the Pultec I picked up from you almost a year ago. Using it on all my mix sessions and it is adding the life I need!" - C.G. (NYC)
Vintage Pultec EQ Service and Repair: